What are Dance Daze Dance Boards?
Dance Daze Dance Boards is a small business and inspirational brand that began in the summer of 2020 by dancer and educator Saumirah McWoodson. It was at this time, during the height of the Covid-19 pandemic, that Saumirah began combining her natural skills and professional background in dance and education with her affinity for creating digital content and using social media for good. With a mission of spreading joy, building community, and giving children and families something to look forward to each day during an unprecedented time, Saumirah began creating ballet and tap dance content for people of all ages from her front yard at home. This led to the creation of portable dance floors, and thus the business Dance Daze Dance Boards. Prior to the pandemic, Saumirah had spent over a decade teaching dance to children through her company, Dance Daze, Inc., so it was only fitting that the words "Dance Daze" were used for this new product. Since 2020, Dance Daze Dance Boards has become known for celebrating color and diversity, encouraging dancing outdoors, and doing good for the world. Dance Daze Dance Boards can be used indoors or outdoors to practice a variety of dance styles. Our boards are crafted by hand in Sacramento, California. Learn more about us by following us on social!
TikTok: @DanceDazeDanceBoards
IG: @DanceDazeDanceBoards
FB: @DanceDazeDanceBoards
Twitter: @DanceDazeInc
#DanceDazeDanceBoards #DancingColorfully #DanceWellDoGood
How are our dance boards different?
First, we craft each Dance Daze Dance Board by hand. This means that we hand pick each piece of wood, choose each bottle of paint, and carefully craft every single dance board we send out, from start to finish.
Additionally, Dance Daze Dance Boards are made using Forest Stewardship Council (FSC) Certified wood. FSC Certified wood is harvested from forests that are responsibly managed and environmentally conscious. In using FSC Certified wood, we are helping to protect the rights of indigenous people, animal rights, the rights of workers, and areas with cultural and environmental significance.
Learn more about how we're different in our blog!
Read our blog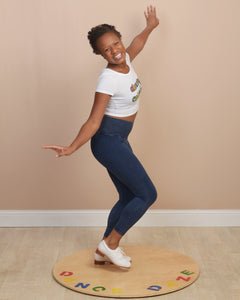 Learn More About Our Best Selling Dance Board: The Jet Setter
At 23 inches in diameter, The Jet Setter by Dance Daze Dance Boards is the smallest and most affordable portable dance floor of its kind currently available on the market! Our Jet Setter board is handmade, using only Forest Stewardship Council Certified wood, which means that the wood we use is NOT lumbered from sacred or indigenous lands. Our Jet Setter weighs only to 4 pounds and is a sprung floor that helps reduce injury and fatigue. This dance board also comes with its own backpack! Learn more about this fantastic dance board by clicking HERE or by clicking the "Full details" link below.
What's the difference between each of our dance boards?
We offer 5 dance boards in different sizes and weights, ranging from 3 to 16 pounds. We offer the following portable dance floors:
The Jet Setter: 23" in diameter; 3-4 lbs.; backpack included!
The Cosmopolitan: 28" in diameter; 6-7 lbs.
The Manhattan: 32.5" in diameter; 7 lbs.
The District: 38.5" in diameter; 10-11 lbs.
The Sacramento: 45" in diameter; 16 lbs.
Please click the image of each board and read the "FEATURES" section to learn how each board is unique from the others. Please also read through the text when you click on each dance board to learn more about what materials we use to make the boards, expected shipping times, shipping costs, and more. Email any questions you have about our products to info@dancedaze.org.
Become A Brand Ambassador!
If you love Dance Daze Dance Boards and love what we stand for (color, diversity, spreading joy, and doing good), and if you enjoy creating dance content and sharing it on Instagram and TikTok, we would love to have you apply to our Brand Ambassador program!
DDDB Brand Ambassadors receive the following:
Lifetime 40% off discount code
Affiliate code to earn $$ for all successful orders
Your original dance content shared on our social media pages
Support from a growing community of fellow ambassadors
Our brand ambassadors are children and adults of all ages! So if you're interested, apply!
Apply to our ambassador program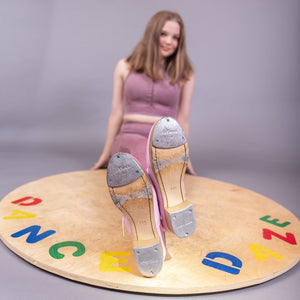 LOCAL DELIVERY AVAILABLE!
We will deliver any Dance Daze Dance Board™ to your doorstep at NO ADDITIONAL COST if the address you provide at checkout is within 50 miles of Sacramento, California, USA.
Please note: Local delivery works with Shop Pay, but does not work with other accelerated checkouts, such as Apple Pay, Google Pay, Amazon Pay, or PayPal. If you choose an an accelerated checkout method other than Shop Pay in the first step of checkout, you will not have Local Delivery as a shipping option and will only have the option to have your packages shipped with our regular shipping rates.
Please email info@dancedaze.org with any questions about shipping and delivery.
The Dancing Colorfully Blog
---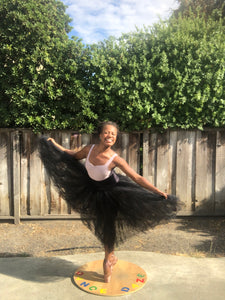 We've been on a yearlong break from creating our handmade, sustainably sourced portable dance floors, but we're getting back into it! The dance boards are back on the website and...
We are excited to announce that we now have the option to design fully customized dance boards! You can now add your name or a power word in a variety...
As a creator myself, I know that it is EASY to feel like we run out of ideas, that our best ideas are behind are behind us, or that we're...
Keep Dancing Colorfully!
Dance Daze Dance Boards™ are handmade dance boards with a pop of color for movers, shakers, and dance-makers living a colorful life! Each of our boards are cut and painted by hand in Sacramento, California, USA.
Our dance boards can be used indoors or outdoors for a variety of dance styles. We have seen that our boards are mainly used for practicing turns, tap combinations, and for participating in Zoom ballet or tap classes from home! Our original boards have a thin rubber bottom layer and are skid-resistant. Fully sprung Dance Daze Dance Boards™ with foam padding at the bottom are also now available!
Follow us on social media for all the latest!
TikTok: @DanceDazeDanceBoards
IG: @DanceDazeDanceBoards
FB: @DanceDazeDanceBoards
Twitter: @DanceDazeInc
#DanceDazeDanceBoards #DancingColorfully #DanceWellDoGood